For the origins and nature of the homophobic dog, see the Know Your Meme article, which covers it decently. For a collection of homophobic dog memes, see here. While the KYM article neglects to mention this in text form, the dog's owners have been hilariously confirmed to be a gay couple by the video that it features.
The most important recent development is that a fake Washington Post screenshot has made the dog popular with right-wing Doge-posters, since they were already used to "homophobic dogs" to begin with. For instances, see the posts by Doge Collection, Darkcel Doge, and Doge Dad. So, while it was initially much more ironic, there seems to be earnest homophobia to a significant chunk of it now. I have had a lively chat with my best friend about this, since I thought that this didn't affect the content all that much, but she seemed to think that they were taking a good meme and ruining it.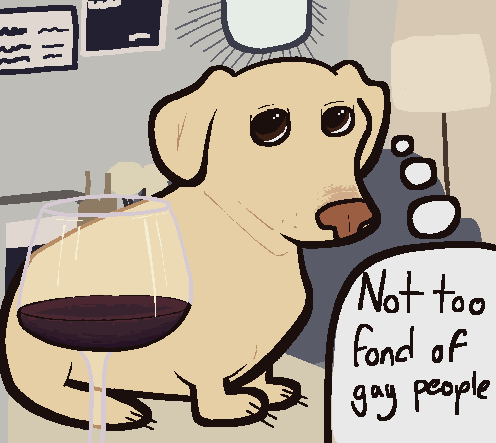 Analysis of formal aspects
As my friend pointed out, the dog's apparently judgmental expression in most of these pictures really helps the meme, and added to the glass of wine in the picture that got it started, it really looks kind of like a "Karen".
I enjoy how the dog is basically an advice animal, with the exception of not being the exact same photo every time. Many of the captions – e.g. "you'll grow out of it", "it's a choice" – make no sense unless you already know that this dog is the homophobic dog. In the middle of the modern meme era, I thought that this felt refreshingly subtle and understated.