I adore the AI's ability to borrow from convention, but in a naïve way that often ends up creating something unique. Particularly in things like fashion and design. In discussing this with a friend, I've noticed a weird intersection between AI and avant-garde/haute couture fashion.
High fashion often tries to bend and accentuate convention to its breaking point and see what happens. AI image generation does the same thing, but bends convention because it doesn't have a fundamental understanding of why something is conventional; it accentuates common elements strictly because the AI has more examples to draw from. It is a distilled example of "form over function" because the function is alien to its creator.
Here are some examples of avant-garde high fashion accentuating common elements of design and fashion, namely how the shape language of these outfits have been exacerbated nearly to their logical extremes. Aggressive triangles, sturdy squares, and soft circles respectively make up these outfits, and the shape language informs not only our assumptions about the subject (in a bouba/kiki sort of way), but the other design elements of the outfits like the dominatrix vibe of the first one, the business vibe of the second one, and the relaxed vibe of the third one.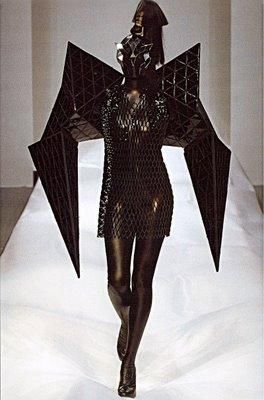 To tie this back into AI, let's try to replicate a concept by designer Rei Kawakubo. Here is a quote I took from a Washington Post article:
"18th Century Punk. The 18th century was a time of change and revolution. This is how I imagine punks would look like if they had lived in this century."
And here are my attempts at getting Dall-E to create something based on the same prompt.
There's a massive difference between the two outcomes, but both can be used for the same purpose: to break boundaries and inform future designs. Haute couture is a painstaking process used to creatively and commercially prototype design concepts that may influence Prêt-à-Porter (or ready-to-wear) designs that are actually worn outside of the runway. AI can be used as a conceptual runway for the same purpose.
As I put it (terribly) earlier today:
Old, bad, stinky way: concept -> ????? -> effort and skill -> end result
New, shiny, badass way: concept -> AI extrapolation -> effort and skill -> end result
AI assists in the weirdest and most ambiguous part of the creative process, where concepts and influences are mashed together into something (arguably) original. I personally don't believe this devalues the end product as a rule.
With that being said, I'm proud to put on this generative fashion show. I am your host, someone who knew nothing about fashion earlier today.
Please share your own creations if you end up making any!